Simple DIY Wedding Invitation Tips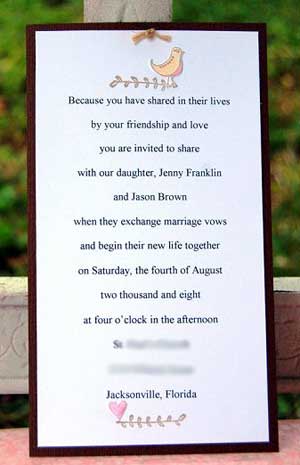 Simple DIY Wedding Invitation Guide

The first thing you can do to save a few dollars is to design your own wedding invitations. The following simple guide will give an idea on how to successfully complete this mission, and create some of the most awesome DIY wedding invitations your friends and relatives have ever seen.

Planning

Before heading to the craft or hobby store, gather ideas for do-it-yourself wedding invitations. Browse through wedding websites and mail order catalogues to see how modern DIY invitations look like. What kind of invitation paper is used? Which decorations are 'hot'? Are ribbons still in style?


The time for shopping

Before you start to order your invitation paper and other materials, know how many DIY invitations you actually need. Count the amount of guests you want to invite, and add a few more, just in case you have to send out last minute invitations.

Assembly and finishing touches

Now that you have bought all your craft materials, it is time for the assembly. Follow your sample invitation, and adjust your design if necessary. You can even customize some of your cards for special guests. The more you personalize your DIY invitations, the more they will be appreciated.